Strategic & Modern Workplace: Maximizing a Small Office Space
Office organization plays a vital role in our performance. It sets up the ambience of workplaces, influencing employees to boost creativity and enhance productivity. However, small-scale areas would limit our movements. And we don't always have the resources to relocate offices. So, instead of settling for narrow rooms, we could make the most out of small spaces through Office Space Planners and strategic methods.
Practical Ways for Maximizing a Small Office Space
While we recognize that every office is built differently, some ways are applicable to all types. Organizing and tailoring your workplace would let you focus on your actual tasks. From effective storage solutions to presenting structures, maximizing a small office space is easier than you think. Limited spaces would no longer distract you.
Automate Tasks for Lesser Papers
There is plenty of software and other programs that specialize in your paperwork, such as data storage, spreadsheets, schedule makers, and fill up forms. Utilizing these digital tools would let you experience more convenient tasks and accurate processing. Therefore, it would lessen your reliance on documents and other paper works. You would not have to locate spacious storage areas. Reducing cabinets and bulky spaces would save you room for the more important stuff.
Decorate Practically
Decorations are beyond creativity. It could make your office appear more neat and spacious when applied with practical elements. You could be stylish while maximizing the areas of your workstation at the same time. For instance, utilize floating objects (stands and shelves) for storage purposes would make the floor extended. You could also prefer folding pieces for alternatives, replacing pieces of furniture you don't use every time. You'll free up space when it's not needed. Other factors such as lighting, mirror, and colours would influence the mood.
Apply Vertical Mindset
Companies and business employees need to think ahead of shortcomings and conflicts. They shall address challenges in a formal or bureaucratic method. By this, the execution of creativity and innovation is essential in every office. This also applies to literal structures, where you tend to seize vertical spaces in the work surface. Sturdy pockets or storage spaces pinned on walls would keep your clothes and office essentials organized.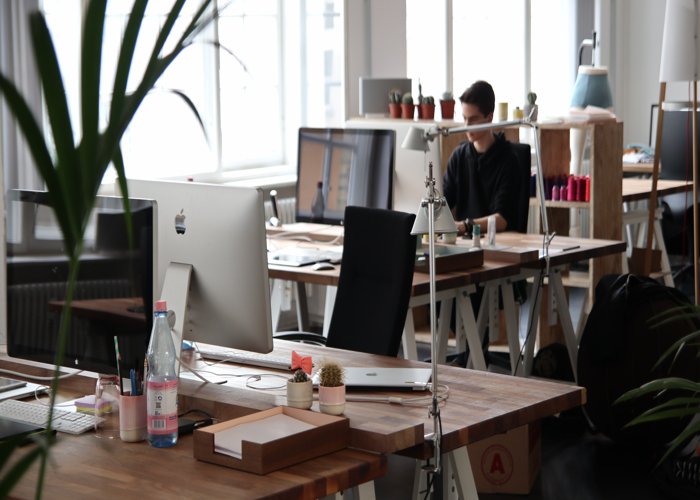 Behavioural Strategies
Finally, one most important yet overlooked strategy is your recognizing habit. You don't have to merely rely on spaces and decluttering materials. Being organized overall is impactful. Start practising the following:
Position your most used tools and materials besides your desk, so you will have easier access on hand. Having a specific setup instead of a messy workstation would save you more time, space, and energy. Put everything in its place. Sort if needed.
Find the right tools that would help you stay organized. The ones that would assist you both in work and personal life.
Avoid multi-tasking. While it divides your attention and focus, it will require you more materials to utilize the same.
Take breaks. Staying hydrated with a few minutes of resting would keep you conscious of your environment.
Prioritize the most important and fulfilling tasks. Define your intentions and make sure you follow a pattern, if necessary to achieve those.
Declutter Office Space
Having a bunch of tools and office supplies is overwhelming. The lack of clean space distracts you from concentrating. Start from listing your stuff and rank the most crucial and unnecessary ones. Remove materials that no longer serve a purpose. This includes excess papers and broken machines. In some instances, return what isn't yours. You could also practice recycling materials and regular decluttering.
Maximizing a small office space has contributing effects—from boosting the mood, structural designs, and organized workstation. Fortunately, there are simple yet strategic tips on how to achieve such. We're not letting cramped areas hinder our potentials. Workplaces should be at our least worries, ensuring it's in the best condition.
Others decide to shift workrooms and company locations. And just like any other firms and small business establishments, it's not easy to transport offices in a short period, unless you contact professional relocators at Singapore Office Relocation Company. Moving is efficient, ensuring minimal cost and time-saving strategy.