The Modern Office Lighting Ideas are Just as Important as Other Factors that Affect Work
A modern workspace is not just about aesthetics when it comes to offices and an updated office also has an open layout which allows more imaginative creative designs. During the time of renovation, lighting and fixtures contribute a lot when it comes to the right aesthetic and productivity illumination. According to research, good lighting increases workplace productivity between 3 to 25% because of how light influences emotions, and employee productivity.

Allow Natural Lighting to Come In
One thing that is noticeable about techno-addicts who are always on their smartphones, iPads and laptops is how they avoid natural sunlight. It is easy to think they are descendants of Dracula because they see natural sunlight as a bad thing. The truth is aside from sunlight being good for your skin, they can also blend well with most artificial illumination. You only have to keep it away sometimes from glossy surfaces.

Ambient Light
Refrain from using overhead fluorescent lights and go for a recessed downlight because this can be rotated 360 degrees and the tilt is 20 degrees. This one lets out a warm light which is not harmful to the eyes.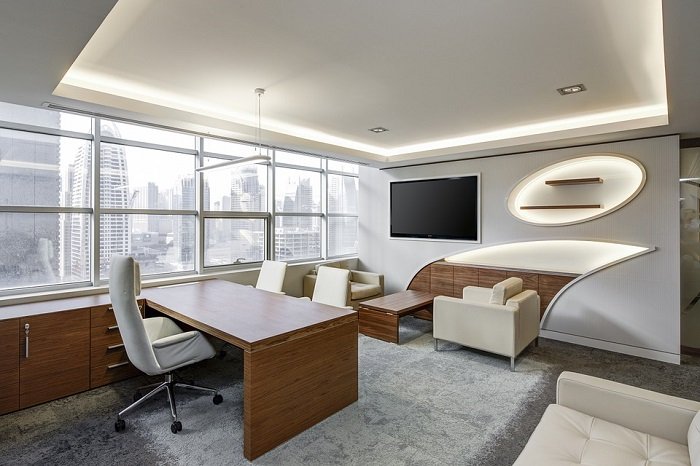 In case you have tasks the require you to use a spreadsheet with a lot of data, brighter illumination is needed. A spotlight that can be adjusted using a track system also functions well with a LED light. If the ceiling is uneven, a nice suggestion is wire lighting that adds a modern touch to decors.

Trendy Lighting for Tasks
Task lights are an important part of home office, and it does not matter what the job is because they are done under the right kind of illumination. With various modern designs of lamps, there are a lot of options to choose from that has focused illumination, as well as dimmer options. Not every task needs the same light intensity so this is very helpful. Although, do not consider the task lights as a sea of concentrated illumination for a brighter space.

Pendant Lights
These are perfect for the office dining areas to give warmth and a nice ambient illumination. The light they offer are on a lower scale in the dining area or on the islands compared to recessed lighting, which are great for giving a more balanced visual arrangement. It is the hospitality and hotel buyers who will love this.

Gloss and Glare
Lighting any workspace is all about gloss and glare, and sticking to only 1 layer of lighting is not going to suffice. Consider the lighting project an effort of layers where the base is provided by the ambient light, functionality is offered by task lighting, and the accent light tops it all off. Come to think of it, a makeup kit of a girl is similar or just like a gourmet cake! Overloading a layer as compensation for 2 is not ideal. In addition, the top interior designers suggest that you should take an approach that is height-based. Each layer needs to be on a different level to make sure that they do not overlap and interfere with each other. This can get overwhelming and could disrupt the working functionality of anyone, especially if it is a busy office with lots of workspaces to design.
These modern lighting ideas are perfect for those who do not know how to make their workspace more conducive to productivity.